Data Release
Hurricane Sandy washover deposit data from southern Long Beach Island, New Jersey: Grain-size, elevations, and graphic core logs
By James M. Bishop, Bruce M. Richmond, Nicholas J. Zaremba, Brent D. Lunghino, and Haunani H. Kane1
1 University of Hawaii at Manoa
Summary
Sedimentologic and topographic data from Hurricane Sandy washover deposits were collected from Southern Long Beach Island, New Jersey, in order to document changes to the barrier-island beaches, dunes, and coastal wetlands due to Hurricane Sandy and subsequent storm events. These data will provide a baseline dataset for use in future coastal change descriptive and predictive studies and assessments. The data presented here were collected as part of the U.S. Geological Survey's Barrier Island and Estuarine Wetland Physical Change Assessment project, which aims to assess ecological and societal vulnerability that results from long- and short-term physical changes to barrier islands and coastal wetlands. In April 2015, approximately two and a half years after Hurricane Sandy's landfall on 29 October 2012, washover deposits were photographed and described, and sediment cores, sediment samples, and surface elevations were collected.
Data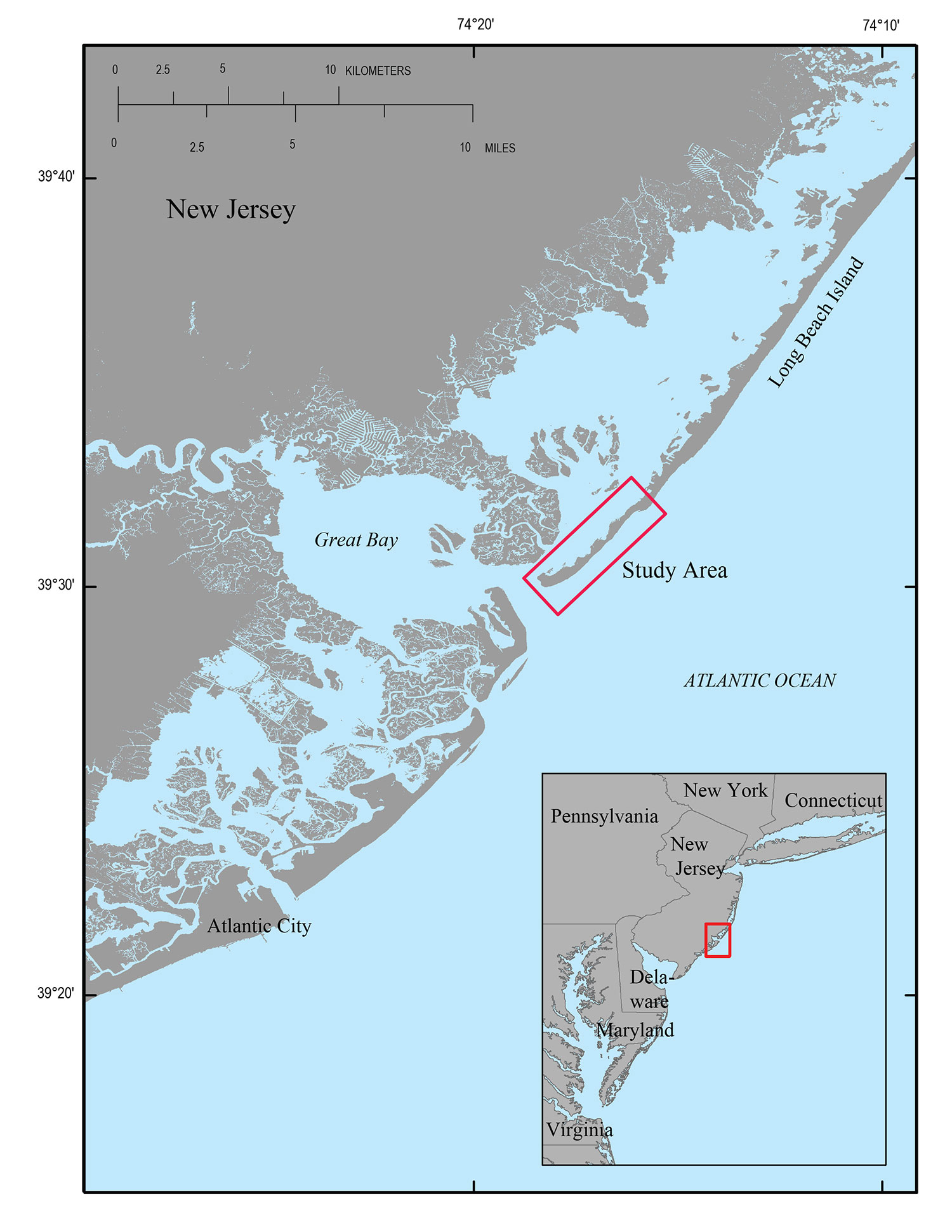 Figure 1. Regional map of Long Beach Island, New Jersey. Red box indicates study area extent. Base map modified from U.S. Geological Survey National Elevation Database (NED) 1/3 arc-second 2013 1 x 1 degree IMG. Inset map from from U.S. Geological Survey 1:200,000 scale digital data.
Suggested Citation
Bishop, J.M., Richmond, B.M., Zaremba, N.J., Lunghino, B.D., and Kane, H.H., 2016, Hurricane Sandy washover deposit data from southern Long Beach Island, New Jersey: Grain-size, elevations, and graphic core logs: U.S. Geological Survey data release, https://doi.org/10.5066/F7PK0D7S.