St. Petersburg Coastal and Marine Science Center
Data Release
EAARL-B Submerged Topography—Crocker Reef, Florida, 2014
By Xan Fredericks, Christine J. Kranenburg, David B. Nagle, and David G. Zawada
Summary
These datasets provide lidar-derived topography for a portion of the submerged environs of Crocker Reef, Florida. Elevation measurements were acquired on April 13 and 22, 2014 by the second-generation Experimental Advanced Airborne Research Lidar (EAARL-B).
The authors acknowledge Emily Klipp, Richard Mitchell, Karen Morgan, Chris Pali, Virgil Rabine, Rudy Troche, and Wayne Wright for planning efforts, data acquisition, and processing support.
Data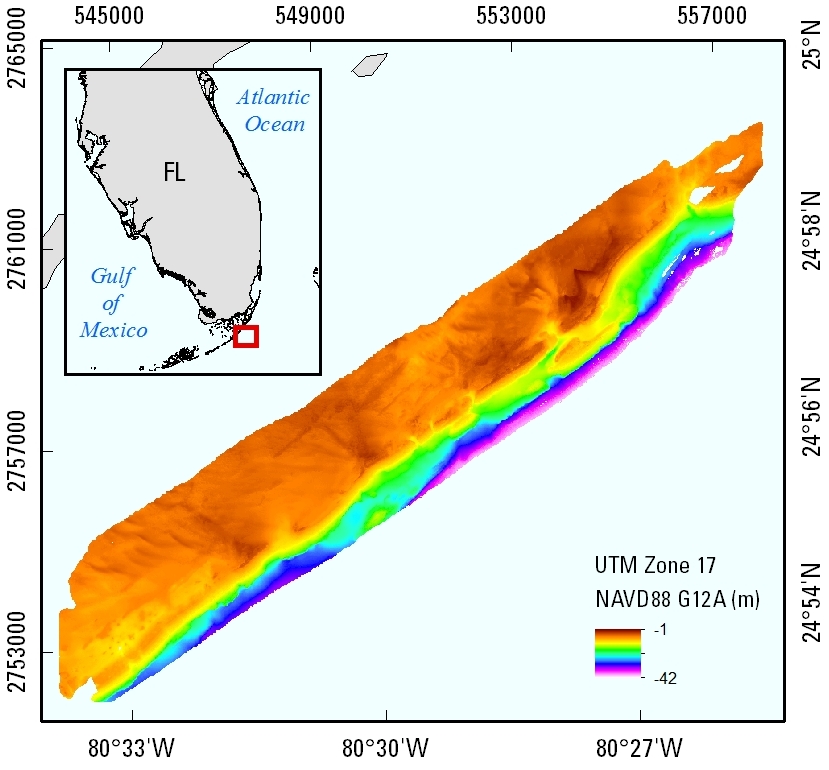 Figure 1.
Lidar-derived submerged topography extent for Crocker Reef, Florida; data were collected in April 2014.
Suggested Citation
Fredericks, Xan, Kranenburg, C.J., Nagle, D.B., and Zawada, D.G., 2016, EAARL-B Submerged Topography—Crocker Reef, Florida, 2014: U.S. Geological Survey data release, https://doi.org/10.5066/F7ZW1J25.