St. Petersburg Coastal and Marine Science Center
Data Release
Subbottom and Sidescan Sonar Data Acquired in 2015 From Grand Bay, Mississippi and Alabama
By Stanley D. Locker, Arnell S. Forde, and Christopher G. Smith
Summary
Grand Bay Alabama and Mississippi were surveyed between May and June 2015, using an Edgetech chirp 424 subbottom profiler and a Klein 3900 sidescan sonar. The objective was to characterize the geologic framework of recent estuarine sediment accumulation in the bay. This data release includes the raw chirp subbottom Society of Exploration Geophysicists (SEG Y) data files, sidescan data files in eXtended Triton Format (XTF), and a processed sidescan sonar mosaic GeoTIFF.
Data
*Very large files may require long download times, depending on internet speed.
File Name and Description
Metadata (XML format)
Metadata (text format)
Download File
2015-315-FA_segy.zip
Unprocessed digital chirp subbottom trace data (.sgy)
GrandBay_2015-315-FA_metadata.xml
GrandBay_2015-315-FA_metadata.txt
2015-315-FA_segy.zip
(2.6 GB)
2015-315-FA_xtf.zip
Unprocessed Klein SonarPro xtf data files (.xtf)
Same as above
Same as above
2015-315-FA_xtf.zip
(9.84 GB*)
2015-315-FA_SSSMosaic.zip
Processed sidescan sonar backscatter imagery merged into a mosaic at 30 centimeter pixel resolution.
NOTE: Backscatter intensity is represented by a gray-scale pallet with high backscatter intensities as darker grays (.tif, .txt)
Same as above
Same as above
2015-315-FA_SSSMosaic.zip
(578.4 MB)
2015-315-FA_arc.zip
Survey trackline locations (.mxd, .shp, .txt)
Same as above
Same as above
2015-315-FA_arc.zip
(64.9 MB)
Supplemental Information
2015-315-FA_logs.zip
Geophysical logs and vessel configuration diagram (.pdf, .jpg)
Not applicable
Not applicable
2015-315-FA_logs.zip
(776 KB)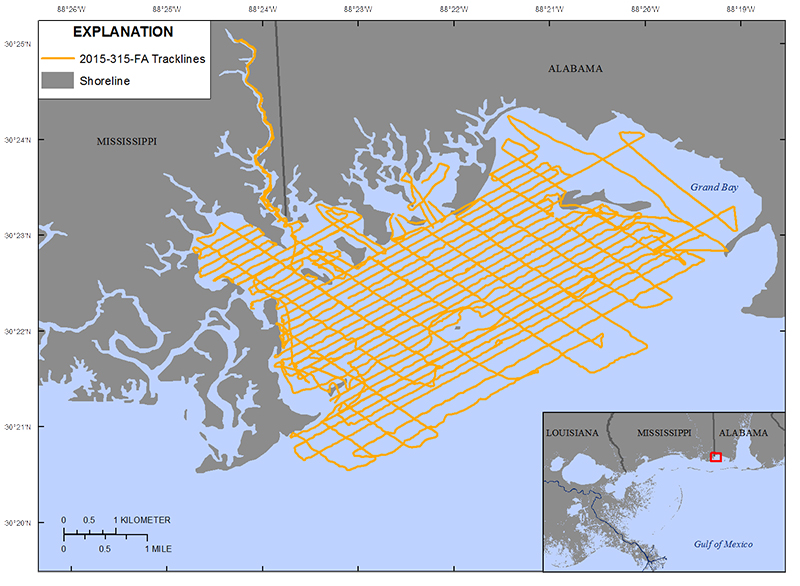 Suggested Citation
Locker, S.D., Forde, A.S., and Smith, C.G., 2018, Subbottom and sidescan sonar data acquired in 2015 from Grand Bay, Mississippi and Alabama: U.S. Geological Survey data release, https://doi.org/10.5066/P9374DKQ.