St. Petersburg Coastal and Marine Science Center
Data Release
Archive of Digitized Analog Boomer Seismic Reflection Data Collected During USGS Cruise Kit Jones 92-1 Along the Florida Shelf, July 1992
By Stephen T. Bosse, James G. Flocks, and Arnell S. Forde
Summary
The U.S. Geological Survey (USGS) Coastal and Marine Geology Program has actively collected geophysical and sedimentological data in the northern Gulf of Mexico for several decades, including shallow subsurface data in the form of high-resolution seismic reflection profiles (HRSP). Prior to the mid-1990s most HRSP data were collected in analog format as paper rolls of continuous profiles up to 25 meters long. As part of the National Geological and Geophysical Data Preservation Program (https://datapreservation.usgs.gov/), and in collaboration with the Bureau of Ocean Energy Management, Marine Minerals Program, scientists at the USGS St. Petersburg Coastal and Marine Science Center converted analog paper records to digital format using a large-format continuous scanner. The scanned image files were subsequently processed to correct distortions and crop out blank spaces prior to exporting as industry standard Society of Exploration Geophysicists exchange (SEG-Y) formatted files.
This data release serves as an archive of HRSP profiles annotated with header information, converted SEG-Y files, navigation data, logbook, and cruise trackline shapefiles. The HRSP data were collected using a Huntec boomer seismic system onboard the research vessel (R/V) Kit Jones. The geophysical surveys were conducted from July 7–19, 1992 with data being acquired along the Florida shelf near Pensacola Beach, St. Joseph Bay aquatic Preserve, and St. George Island. Data collection and processing methods are described in USGS Data Series 1047.
Bosse, S.T., Flocks, J.G., and Forde, A.S., 2017, Digitized analog boomer seismic-reflection data collected during U.S. Geological Survey cruises Erda 90-1_HC, Erda 90-1_PBP, and Erda 91-3 in Mississippi Sound, June 1990 and September 1991: U.S. Geological Survey Data Series 1047, https://doi.org/10.3133/ds1047.
Data
File Name and Description
Metadata (XML format)
Metadata (text format)
Download File
KJ92-1_ProfilesWithHeaders.zip
Printable seismic profiles with headers containing cruise, line, and scanning information (.tif).
Metadata_KJ92-1.xml
Metadata_KJ92-1.txt
KJ92-1_ProfilesWithHeaders.zip
(10.88 GB)
KJ92-1_ProfilesWithScales.zip
Processed seismic profile images with axis scales and headers (.pdf)
Same as above
Same as above
KJ92-1_ProfilesWithScales.zip
(1.12 GB)
KJ92-1_SEGY.zip
Society of Exploration Geophysicists formatted seismic data (.seg).
Same as above
Same as above
KJ92-1_SEGY.zip
(5.85 GB)
KJ92-1_Navigation.zip
Cruise navigation data (.xls).
Same as above
Same as above
KJ92-1_Navigation.zip
(95 KB)
KJ92-1_CruiseShapefiles.zip
Cruise shapefiles (.shp, .kmz).
Same as above
Same as above
KJ92-1_CruiseShapefiles.zip
(178 KB)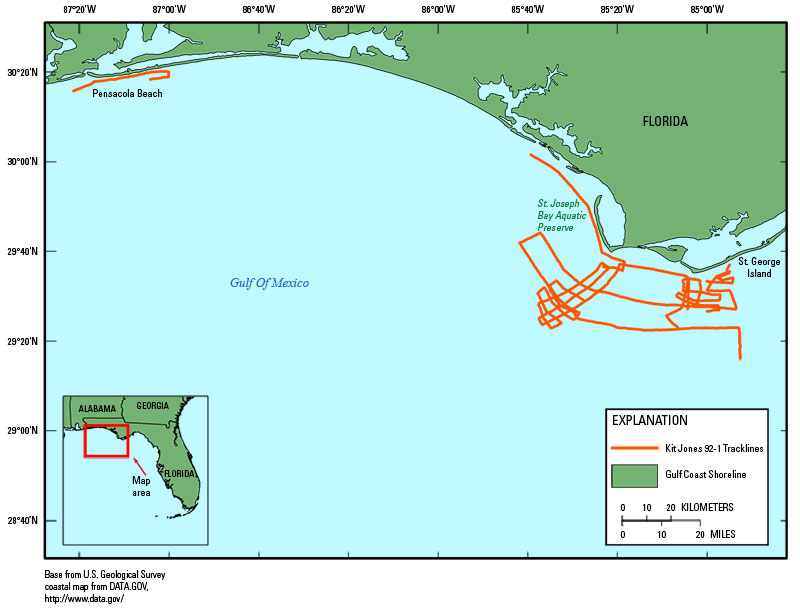 Suggested Citation
Bosse, S.T., Flocks, J.G., and Forde, A.S., 2018, Archive of digitized analog boomer seismic reflection data collected during USGS cruise Kit Jones 92-1 along the Florida shelf, July 1992: U.S. Geological Survey data release, https://doi.org/10.5066/P9L3W3MX.