St. Petersburg Coastal and Marine Science Center
Data Release
Archive of Chirp Subbottom Profile Data Collected in 2017 From the Louisiana Chenier Plain
By Arnell S. Forde, Jake J. Fredericks, and James G. Flocks
Summary
Scientists from the U.S. Geological Survey (USGS) St. Petersburg Coastal and Marine Science Center conducted nearshore geophysical surveys around the eastern and western Chenier Plain, Louisiana, in 2017. Data were collected under the Barrier Island Coastal Monitoring (BICM) program, an ongoing collaboration between the State of Louisiana Coastal Protection and Restoration Authority (CPRA), the University of New Orleans (UNO) Pontchartrain Institute for Environmental Sciences (PIES), and the USGS. The objective of this study was to document the changing morphology of the coastal environment by compiling historical shoreline bathymetric datasets and comparing them to bathymetric data collected during the BICM project. At the same time, subsurface geophysical data were collected to investigate the geomorphology and geologic controls on barrier-shoreline evolution. Collecting geophysical data can help researchers to identify relationships between the geologic history of the barrier shoreline and its present-day morphology and sediment distribution.
This data release serves as an archive of subbottom profile and navigation data acquired offshore of the Chenier Plain, during USGS Field Activity Numbers 2017-323-FA (Project ID: 17BIM01, June 2–10) and 2017-324-FA (17BIM05, July 2). Data products, including unprocessed digital chirp subbottom data, trackline map, navigation files, processed profile images, geographic information system (GIS) files and formal Federal Geographic Data Committee (FGDC) metadata, and field logs are provided.
Data
File Name and Description
Metadata (XML format)
Metadata (text format)
Download File
2017_Chenier_segy.zip
Unprocessed digital chirp subbottom trace data (.sgy)
2017_Chenier_metadata.xml
2017_Chenier_metadata.txt
2017_Chenier_segy.zip
(4.84 GB)
2017_Chenier_seisimag.zip
Processed subbottom profile images (.gif)
Same as above
Same as above
2017_Chenier_seisimag.zip
(63.4 MB)
2017_Chenier_nav.zip
Navigation data (.txt)
Same as above
Same as above
2017_Chenier_nav.zip
(8.1 MB)
2017_Chenier_arc.zip
Survey trackline locations (.mxd, .kml, .shp)
Same as above
Same as above
2017_Chenier_arc.zip
(66.8 MB)
Supplemental Information
2017_Chenier_logs.zip
Field Activity Collection System (FACS), acquisition geometry and geophysical operations logs (.pdf)
Not applicable
Not applicable
2017_Chenier_logs.zip
(552 KB)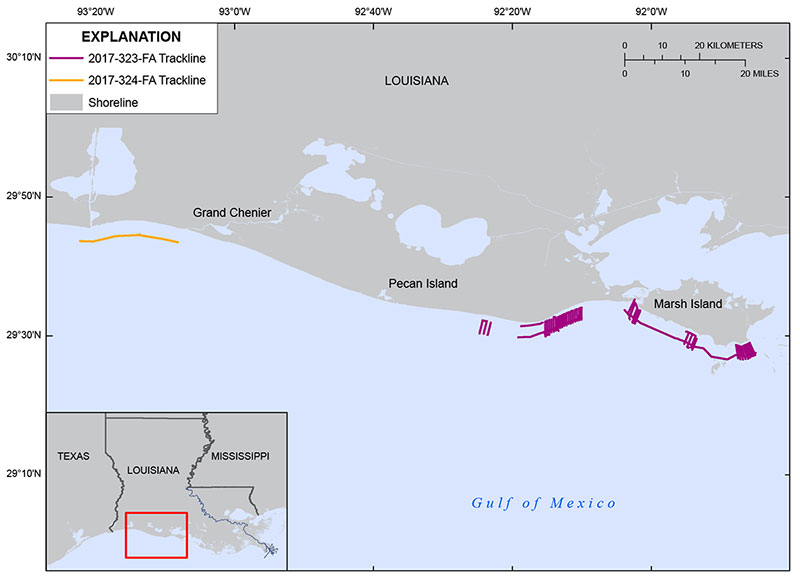 Suggested Citation
Forde, A.S., Fredericks, J.J., and Flocks, J.G., 2019, Archive of chirp subbottom profile data collected in 2017 from the Louisiana Chenier Plain: U.S. Geological Survey data release, https://doi.org/10.5066/P9XOZIBV.