St. Petersburg Coastal and Marine Science Center
Data Release
Sedimentary Data from the Coastal Marshes Fringing the Lower Waccasassa River, Northwest Florida
By Terrence A. McCloskey,1 Christopher G. Smith,1 Christian Haller,2 Marci Marot1
1U. S. Geological Survey
2University of South Florida, College of Marine Science
Summary
The Waccasassa River is located in a small watershed situated along the middle section of the low-gradient, low-energy, sediment-starved Big Bend coast in west central Florida. The river mouth empties into the head of the shallow, microtidal Waccasassa Bay and the Gulf of Mexico. The lower end of the river and the surrounding coastline are dominated by coast-parallel Juncus roemerianus salt marshes up to 1.5 km wide. The sediment cover is thin, with the marsh surface typically <2.5m above the limestone bedrock. Scientists from the U.S. Geological Survey (USGS) St. Petersburg Coastal and Marine Science Center investigated the sedimentary and geochemical properties of the saltmarsh sediments in order to increase understanding of the region's environmental history and the ongoing soil chemical processes. To this end, they obtained long and short sediment cores and surface samples from three sites along the margins of the river during field trips in December 2014 and February, 2015.
This data release details the sedimentary and chemical properties of these sediments. All ten cores were subjected to 2 cm-resolution analysis by a hand-held XRF (pXRF) to determine elemental concentrations, loss-on-ignition (LOI) was performed on eight long cores at 1 cm-resolution, and sediment physical parameters were quantified for eight short cores and all surface samples. Thirteen subsamples, extracted from seven cores at selected stratigraphic depths were dated by radiocarbon analysis, and centennial-scale dating was provided by short-lived radioisotope analysis conducted on two short cores. Grain size analysis was conducted on four cores, and pollen analysis on one core. These data are used to quantify current conditions in the marsh sediments and provide a history of local environmental change for the last three millennia. This data release archives the data, downloadable as Excel and CSV spreadsheets, and PDF and JPEG files.
Data
File Name and Description
Metadata (XML format)
Metadata (text format)
Download File
CoreLocations.zip
Core site locations (.xlsx, .csv)
Metadata_Waccasassa.xml
Metadata_Waccasassa.txt
CoreLocations.zip
(37 KB)
CorePhotos.zip
Photographs of auger cores (.jpg)
Same as above
Same as above
CorePhotos.zip
(37.8 MB)
LOI.zip
Spreadsheet of water, organic, carbonate, and residual percentages of auger cores (.xlsx, .csv)
Same as above
Same as above
LOI.zip
(175 KB)
XRF.zip
Spreadsheet of elemental concentrations for auger cores (.xlsx, .csv, .pdf)
Same as above
Same as above

XRF.zip
(444 KB)

RadioCarbonDates.zip
Spreadsheet of radiocarbon and calibrated dates (.xlsx, .csv)
Same as above
Same as above
RadioCarbonDates.zip
(38.5 KB)
AlphaSpecData.zip
Spreadsheet of specific activity of Pb-210 and error bars (.xlsx, .csv)
Same as above
Same as above
AlphaSpecData.zip
(35.7 KB)
GammaSpecData.zip
Spreadsheet of specific activity of Be-7, Cs-137, Pb-210, Ra-226, Th-234, K-40 and error bars (.xlsx, .csv)
Same as above
Same as above
GammaSpecData.zip
(41.3 KB)
GrainSizeData.zip
Spreadsheet of grain size parameters for cores WC04D, WC10D, WC20D, WC21D (.xlsx, .csv, .pdf)
Same as above
Same as above
GrainSizeData.zip
(1.6 MB)
Pollen-WC20R.zip
Spreadsheet of pollen counts and concentrations for core WC20R (.xlsx, .csv, .pdf)
Same as above
Same as above
Pollen-WC20R.zip
(267 KB)
SedimentPhysicalParameters.zip
Spreadsheet of water content, dry bulk density and loss-on-ignition for cores cores WC04D, WC10D, WC11D, WC12D, WC20D, WC21D, WC22D, WC23D, and surface samples (.xlsx, .csv, .pdf)
Same as above
Same as above
SedimentPhysicalParameters.zip
(66 KB)
Supplemental Information
FieldLogs.zip
Digital field logs (.pdf)
Not applicable
Not applicable
FieldLogs.zip
(1.5 MB)
LOI-XRF-Diagrams.zip
Diagrams of LOI and XRF results for auger cores
Not applicable
Not applicable
LOI-XRF-Diagrams.zip
(6.2 MB)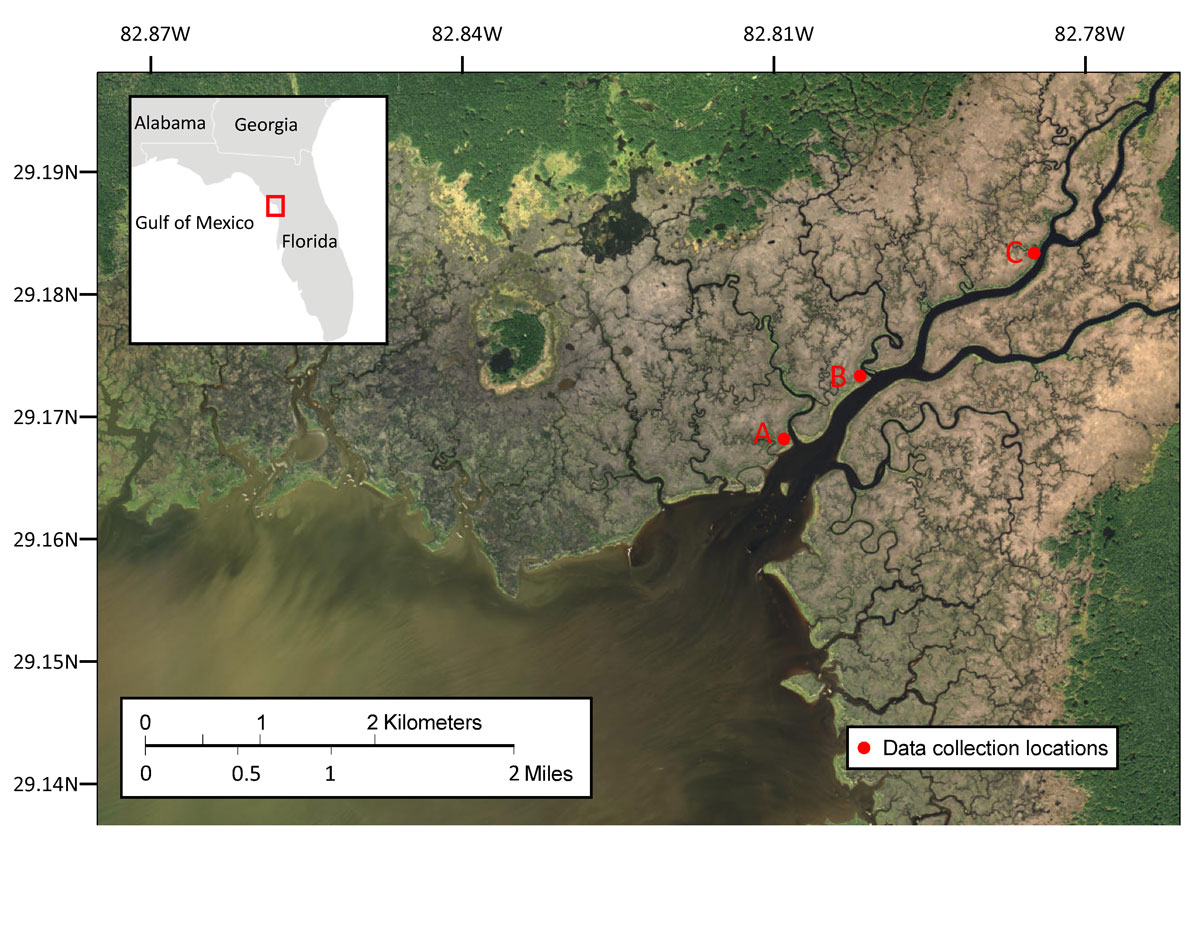 Figure 1. Location. Research was conducted at three locations along the Waccasassa River in northwest Florida (insert, top left). Location A consists of a 260 m transect of six sites (WC04, WC05, WC20, WC21, WC22, and WC23), location B contains a single site (WC01), and location C consists of a 38 m transect (sites WC10, WC11, and WC12). Base map is from Esri, Digiglobe, GeoEye Earthstar Geographics, CNES/Airbus DS, USDA, USGS, AEX, Getmapping, Aerogrid, IGN, IGP, swisstopo and the GIS User Community.
Suggested Citation
McCloskey, T.A., Smith, C.G., Haller, C., and Marot, M., 2017, Sedimentary data from the coastal marshes fringing the lower Waccasassa River, northwest Florida: U.S. Geological Survey data release, https://doi.org/10.5066/F73J3B5K.