Data Release
Time-series Coral-cover Data from Hawaii, Florida, Mo'orea, and the Virgin Islands
By James R. Guest,1 Peter J. Edmunds,2 Ruth D. Gates,1 Ilsa B. Kuffner,3 Eric K. Brown,4 Ku'ulei S. Rodgers,1 Paul L. Jokiel,1 Robert R. Ruzicka,5 Michael A. Colella,5 Jeff Miller,6 Andrea Atkinson,6 Michael W. Feeley,6 and Caroline S. Rogers7
1Hawai'i Institute of Marine Biology, University of Hawai'i, Kāne'ohe, HI 96744, USA
2California State University, Northridge, CA 91330–8302, USA
3U.S. Geological Survey, St. Petersburg Coastal & Marine Science Center, St. Petersburg, FL 33701, USA
4National Park Service, Kalaupapa National Historic Park, Kalaupapa, HI 96742, USA
5Florida Fish and Wildlife Conservation Commission, Fish and Wildlife Research Institute, St. Petersburg, FL 33701, USA
6National Park Service, Inventory & Monitoring Program—South Florida/Caribbean Network, Palmetto Bay, FL 33157, USA
7U.S. Geological Survey, Caribbean Field Station, St. John, VI 00830, USA
Summary
Coral reefs around the world have degraded over the last half-century as evidenced by loss of live coral cover. This ubiquitous observation led to the establishment of long-term, ecological monitoring programs in several regions with sizable coral-reef resources. As part of the of the U.S. Geological Survey (USGS) John Wesley Powell Center for Analysis and Synthesis working group "Local-scale ecosystem resilience amid global-scale ocean change: the coral reef example," scientists gathered resultant data from four of these programs in the main Hawaiian Islands, the Florida Keys, Mo'orea in French Polynesia, and St. John in the U.S. Virgin Islands to examine among-site, within-region spatial and temporal variation in coral cover. Data from the four focal regions represent spatial scales ranging from ~80 to 17,000 km2. The surveys chosen for the analysis were carried out at fixed sites between 1992 and 2015. Survey durations differed among focal regions and extended from 11 years at Mo'orea to 24 years at some of the sites in St. John. 123 fixed sites (defined here as distinct surveys carried out within a defined reef habitat, depth range, or area of shoreline) were surveyed repeatedly (annually or every few years) in each focal region. Only sites with surveys extending over a decade or more and with at least three years of surveys were used so as to capture a variety of disturbance events (for example, El Niño events, major storms, etc.). Each focal region has experienced disturbances such as overfishing, disease pandemics, thermal stress, pollution, invasive species, predator outbreaks, and major storms. The data gathered for analysis are provided in this data release and are interpreted in Guest and others (2018).
Guest, J.R., Edmunds, P.J., Gates, R.D., Kuffner, I.B., Andersson, A.J., Barnes, B.B., Chollett, I., Elahi, R., Courtney, T.A., Gross, K., Lenz, E.A., Mitarai, S., Mumby, P.J., Nelson, H.R., Parker, B.A., Putnam, H.M., and Toth, L.T., 2018, A framework for identifying and characterising coral-reef "oases" against a backdrop of degradation: Journal of Applied Ecology, https://doi.org/10.1111/1365-2664.13179.
Data,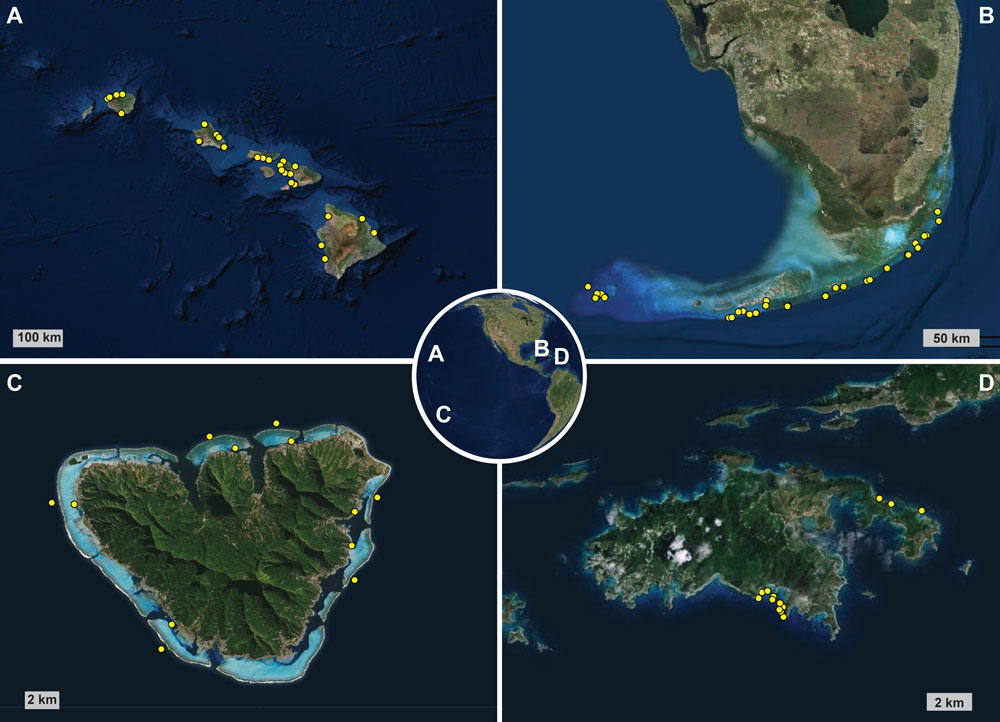 Figure 1. Maps showing the locations where coral-reef survey data included in this data release were collected. Inset shows Earth with the four focal locations: A) Main Hawaiian Islands, B) Florida Keys, C) Moorea, French Polynesia, and D) St. John, U.S. Virgin Islands. Yellow dots mark the locations of the 123 survey sites. Image credit: Google Earth.
Suggested Citation
Guest, J.R., Edmunds, P.J., Gates, R.D., Kuffner, I.B., Brown, E.K., Rodgers, K.S., Jokiel, P.L., Ruzicka, R.R., Colella, M.A., Miller, J., Atkinson, A., Feeley, M.W., and Rogers, C.S., 2018, Time-series coral-cover data from Hawaii, Florida, Mo'orea, and the Virgin Islands: U.S. Geological Survey data release, https://doi.org/10.5066/F78W3C7W.